1. The easternmost land at Laem Ngop
The easternmost land at Laem Ngop is a spectacular viewpoint of Laem Ngop featuring an outstanding tall lighthouse as a Landmark with the signpost of the end of the East land for taking photos. Moreover, it is one of the most beautiful Sunset viewpoints of the East.
2. Emerald Sea in the Trat archipelago
Emerald sea in the Trat archipelago is the most breathtaking beauty of the Eastern sea comprising crystal clear sea, creamy white Beach and indigo blue sky with a cluster of islands; for example, Ko Chang, Ko Kut, Ko Mak, Ko Kham, Ko Rang, Ko Kradat, etc.
3. Lan Tabun at Tha Ranae
Lan Tabun at Tha Ranae is an Amazing ancient land that can be accessible by Boat passing through 4 forests in order to witness the beauty of numerous roots of Tabun or Xylocarpus trees that intertwine and spread out on the ground in large extensive areas.
4. Amazing Hat Sai
Amazing Hat Sai Dam is one of a kind in Thailand created by nature. Visitors can walk along and enjoy a pleasant route of the mangrove forest to get to the seashore and admire the amazing black sand Beach.
5. "Ruea Mat" sailing at Ban Salak Khok
"Ruea Mat" sailing at Ban Salak Khok , situated on the east side of Ko Chang, is a fisherman's Village community providing an activity of sailing to sightsee the mangrove forest, which is the community's idea that combines authenticity with modern tourism to offer everyone to get close to nature via sailing.
6. Brahminy kite viewpoint
Brahminy kite viewpoint is the spot in Tambon Nong Khan Song and Tambon Nong Sano to witness the thrilling moment when over a hundred Brahminy kites or red-backed Sea eagles, birds of prey with the best eyesight, pounce on their prey.
7. Ban Na Nai in the mangrove forest at Ban Salak Phet
Ban Na Nai in the mangrove forest at Ban Salak Phet , located on the east side of Ko Chang, is an Ecotourism attraction where tourists can explore and study via a nature trail that comprises many peculiar shapes of trees and a green shady atmosphere of trees contrasting the long stretching red wooden bridge that make a path for visitors through the forest to the Seashore.
8. Ban Nam Chiao
Ban Nam Chiao is a two-religion and three-Culture community combining Buddhists, Muslims, and Chinese people living together that offer various activities for tourists: making Ngop or a farmer's palm-leaf hat, finding lamp shells, tasting local dishes; such as, spicy stir-fried lamp shells, Khao Kriap Ya Na, Ban Nam Chiao stir-fried noodles, etc., and taking pictures with the bridge called Saphan Wat Chai.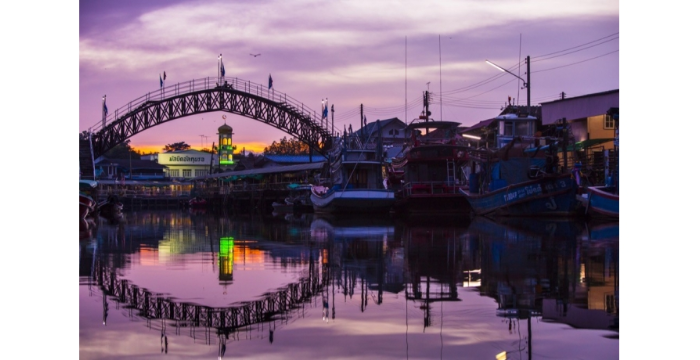 9. Ban Chang Thun
Ban Chang Thun is the Village of the Chong Samre ethnic community who preserve an interesting way of life and Culture that visitors can learn from; for instance, making an inhalant from local herbs, wickerwork from Khlum (Catathea) trees, riding on the "Salenger", a local adapted vehicle to have a spa with white mud, dredging Siamese ruby gemstones, making a Chong weir, authentic herbal sauna "chicken coop" spa, and eating local menus of "Chong Samre' food.
10. Ban Laem Makham
Ban Laem Makham is a two-legend, two-religion and three-Culture community comprising a learning centre of King Rama V the Great's picture collection from his visits in many places; such as, Wat Laem Makham, an old Temple where the King paid a visit and had a Dharma conversation with Phra Athikan Daeng. Behind the temple is a religious site of the Muslims, To Wali that is much-respected by Muslim people. Furthermore, there is Ban Hun Mai Kradan of Grandpa Songkran, a local inventor who makes wooden models of working people, which is a local wisdom for the public to learn about ancient tools including some interesting local food; such as, young coconut milk curry, Khlu Chet, Mu Mok Kapi, etc.